Not linking up but posting with Carissa at
lowercase letters
: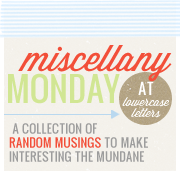 1. At swimming lessons today E was a crazy girl. We took last week off because we were at the zoo and I think she has refound her love of swimming. My little crazy fish kept trying to join the older kids, she jumped and jumped like the swim club kids doing dry land training and she did one mean version of "If You're Happy and You Know It".
2. My poor furry first born, Maddy, has been to the vet twice in the last month. She is on her second round of antibiotics. Hopefully she feels better for her birthday on Wednesday. Little Girl will be 9 years old. She LOVES Halloween. I just need to dig out her costume. 
Last Year
3. This year I attempted to make costumes for S and E. I have a hard time buying something for one day, and not really finding something I liked. Last year we got a dog costume from the second-hand store and a skunk from a friend. This year the kids will be gnomes. We did a trial run on Saturday and the kids did a great job. E's costume needs a little bit more decoration though. They both kept their hats on and E enjoyed the extra attention. Now we just have to figure out what we're going to DO for Halloween. Do you take almost 2 year olds Trick-or-Treating? I know WE don't need the candy.
4. Is it bad that I drink a cup of caffeinated tea at 8 pm so I can make it until 10 pm awake?
5. S is on a roll with his words lately. Tonight he was talking about the frog (the slide at the pool looks like a frog), his socks, and new in the last week or so is eat. I think the boy wants to eat all day now that he can tell you about it. He is constantly bossing the dog around too. "Maddy sit." "Maddy down." "No Maddy No" Someday she might realize he is talking to her.