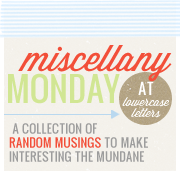 I wasn't sure I had anything for today but surely I can come up with some random stuff.
This morning as I was leaving for work I grabbed my scarf to put it on and E said, "Mommy's blanket." Silly girl.

On a similar note we do gymnastics on Mondays and we alternate weeks with S and E. It was S's turn this week but E came and Mr. P met us there. On our walk into the rec center S pointed out doggy poop, although I never did see any. Most of it was snow or leaves.

S can lock the dead bolt on the front door. We need to find a place for a key just in case we get locked out.

I turned 33 yesterday. I took about 5 videos of the kids singing Happy Birthday to me.

My husband must have found my blog because he is on a roll with presents for the last two holidays. Thank you Mr. P! Yesterday he gave me a spa gift card (with instructions to NOT use it on my hair cut), an elliptical (not sure it this counts as a present), flowers and Starbucks when I got up.

I took Friday off, for my birthday, and we went to breakfast at my favorite place with my parents. S, who has always been a direction giver, has no started demanding you eat or drink more. He decided I need more coffee and he needed to help.

We had a snow sculpting contest in town over the weekend. Once it was over we finally got winter weather. The rest of the week was 60. We drove by Friday and S wanted to see "more big snow." On Saturday he just really wanted to throw the snow. We always are looking for free things to see or do with the kids.